【Throwback: Fossils in Hong Kong Footprints of the Geological History 】
by Prof. LEE Cho-min

Click to Play!


Hong Kong Mining History

Gemstone of The Month: Quartz Pseudomorph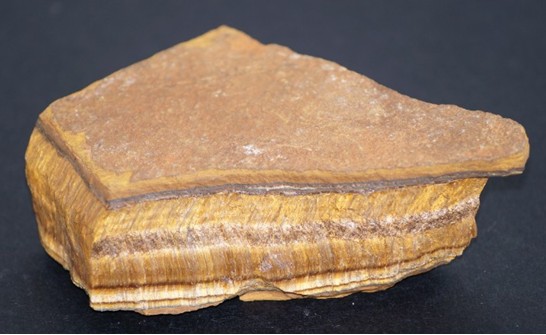 Quartz crystallizes from silica rich solution which are usually associated with volcanic or hydrothermal activities. As a very common mineral, quartz always exists in a definite crystal form like hexagonal prism plus rhombohedra, or appears massive. However, the sample shown in the above photo, displays a fibrous vein which does not look like quartz. Indeed, it is quartz pseudomorph after crocidolite (an asbestos mineral) with preserved fibrous habit of crocidolite, alternatively known as "tiger-eye".
Crocidolite is a type of asbestos mineral and essentially a silicate mineral of the amphibole group. When silica fluid flows along structures and interacts with crocidolite, SiO2 replaces the chemical composition of the original crocidolite. However, the original blue colour and the fibrous structure of crocidolite are preserved. The golden colour of the tiger-eye is subsequently tainted by iron oxides. Because of its attractive appearance, it is often used as gemstone.
Our Society - GSHK

The Geological Society of Hong Kong is a non-profit organisation that attempts to promote geological and earth science studies within Hong Kong and the adjacent region. We organise local and overseas fieldtrips, as well as lectures. The Society publishes a journal (The Hong Kong Geologist) and bulletins dealing with a variety of earth science subjects.

---
For any enquiry and suggestion, please mail to Webmaster.

What's New!




【The 40th Anniversary of The Geological Society of Hong Kong 】

Date: 26 August 2022



【Online Seminar: Marine Sand in Hong Kong 】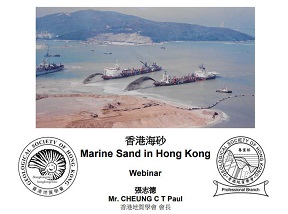 Date: 18 September 2021 (Saturday)
Speaker: Mr. CHEUNG C T Paul (President of GSHK)



【Seminar: Meteorite in picture 】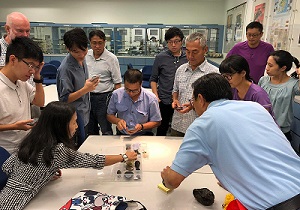 Date: 06 September 2019 (Friday)
Speaker: Prof. Vincent Wong



【粵港地質學會之丹霞山地質公園🌄考察】
日期:2019年5月11日至13日(星期六至星期一,共3天)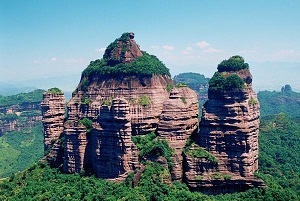 第一天:乳源大峽谷
第二天:丹霞山世界地質公園
第三天:梅關古道及珠璣古巷



【Seminar: The Azores Archipelago 】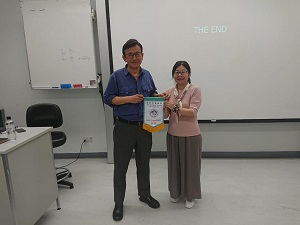 Date: 11 April 2019 (Thursday)
Speaker: Prof. Vincent Wong



【Seminar: Basic Concepts of Paleontology and Fossils】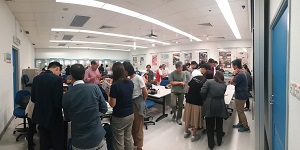 Date: 21 March 2019 (Thursday)
Speaker: Mr. Lung Tak Chun